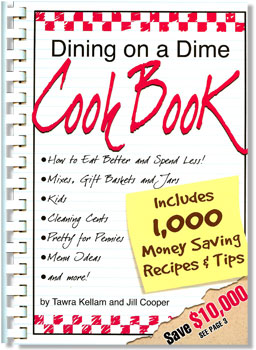 (Almost my favorite book, period.)
This book is so full of tips, recipes, and ideas, that every time I go through it, I find something new. The idea is to have a book that promotes frugal cooking/housekeeping/gift giving/habits, and it exceeds expectations! The recipes are for down-home,
real
food. Nothing is too fancy.
There are tons of tips and encouraging sayings, many of which are from a Christian perspective! (ex: "Never be discouraged. Remember, Noah was an amateur. The experts built the Titanic.")
There's also a 32 pg. section on mixes for giftgiving, a 22 pg. section on recipes for kids (including playdough, finger paints, snow ice cream, etc.), and a a 32 pg. section on cleaning tips (including recipes for cleaning solutions, etc.) and a 22 pg. section on beauty recipies (homemade leg wax anyone??)
This guide (because it's really more than a cookbook) is great for basic recipes, tips, and teaching general housekeeping stuff!
In sum, I'd recommend it to anyone!